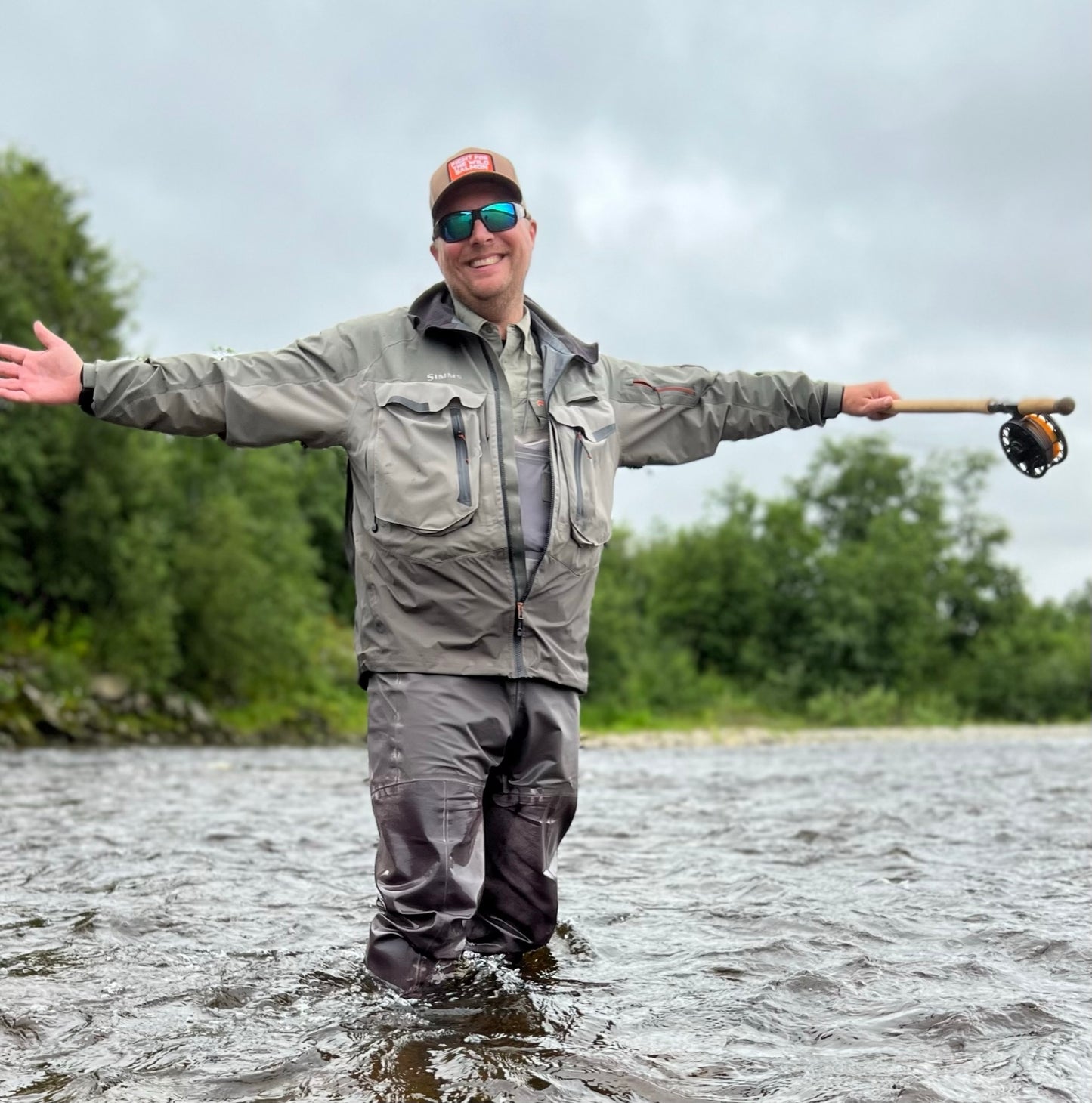 Lars P. Sørensen
My name is Lars P. Sørensen and I am a tour leader on many of the ASFF tours. My first trip to Norway was back in 2010 and I have fished for salmon in Norway every season ever since. I have been fly fishing since I was a child, but until 2010 it was primarily as a dry fly fisherman.
Today, it is the salmon fishery that attracts the most, with Skjern å and Orkla as the absolute favourites.
I am responsible for the day-to-day operations at ASFF and have previously worked for several years in the tackle industry, which provides a good basis for advice on rods, reels, lines etc.
It is extremely important to me that our participants are dressed as well as possible in terms of equipment, so that everything is adapted to the expected conditions. It's not about having the newest and most expensive cases, but the right gear for the conditions.
If you are new to fly fishing for salmon, I provide the best possible starting point, both when it comes to equipment, casting training and basic fishing technique.

Hope to see you by the river, the stream or the coast, break and break.
Mail: ls@asff.dk
Mobile: +45 26275321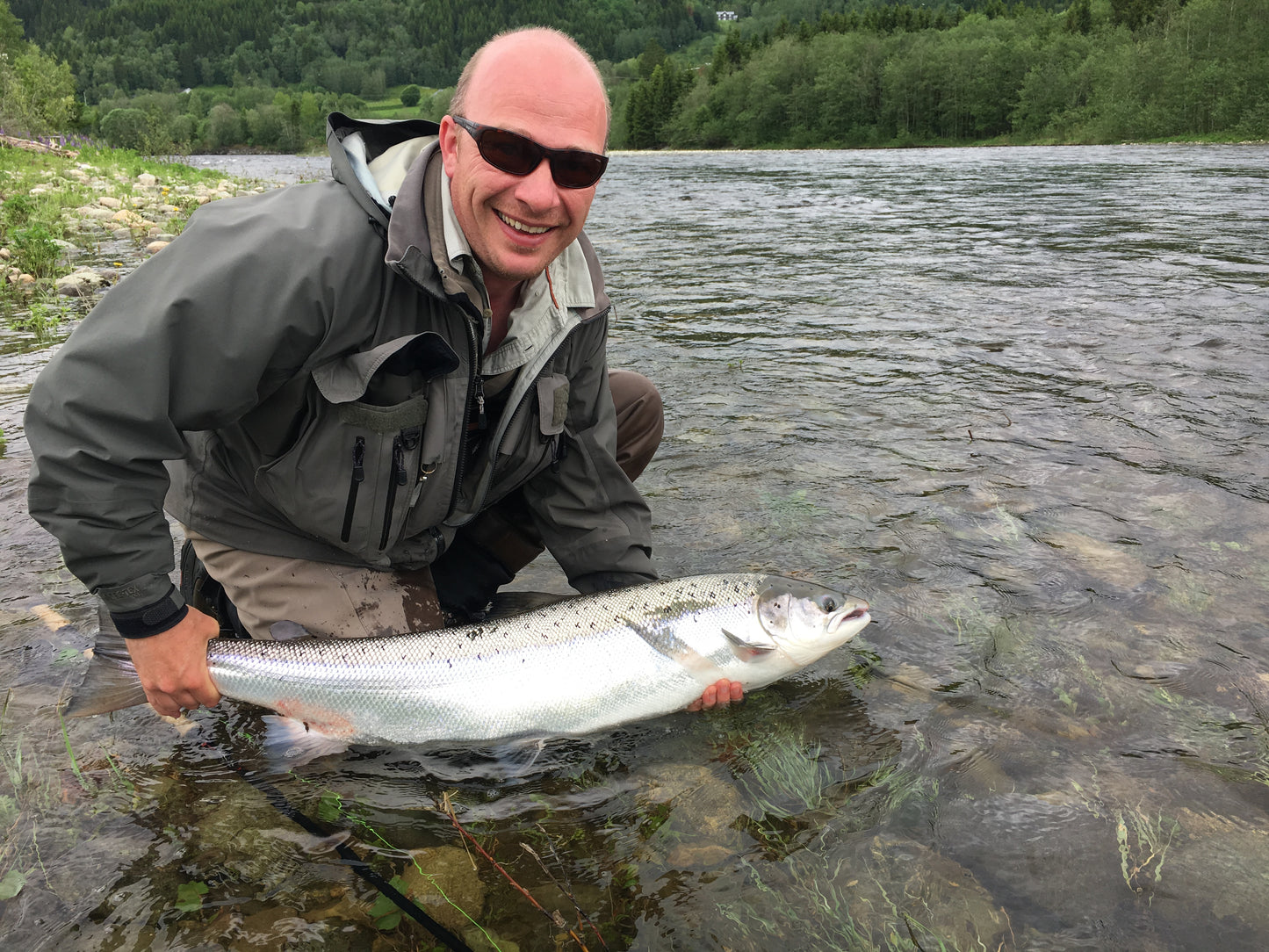 Morten Strobel
My name is Morten Strobel. I am 50 years old and live with my family in Malling, south of Aarhus. On a daily basis, I work at Unitas Rejser in Silkeborg.
I have been fishing all my life and caught the first red-spotted trout in one of Norway's many mountain streams, at the age of just 3 years. Throughout my more than 25 years in the travel industry, I have had good opportunities to visit all kinds of exotic fishing waters. Most of all, I am passionate about the Nordic fishing for large shiny Atlantic salmon. For more than 20 seasons I have been on the hunt for these fantastic fish and especially the fishing in the Norwegian rivers, is close to my heart. Like many other fly fishermen, I have a fondness for the rivers in the Trøndelag area. Perfect fly rivers such as Orkla, Gaula and Stjørdalselven have been on my program throughout the years and draw a red thread in my fishing. I like the great variety that the fishing in these rivers contains.
I can often be found at Orkla in June for the early fishing for the first large rising salmon. Preferably again around midsummer, when the very large hauls of salmon of all sizes arrive. However, the late August fishing, before the season closes, also has its own charm and it belongs to a complete season in Norwegian.
I have never fished with other gear than fly for the salmon and this method offers almost endless possibilities for variation. The fly fisherman covers everything from the heavy June fishing with Synkelines to the light summer fishing with surface techniques such as e.g. Riffling hitch and Bombers. The last mentioned methods are high on the list when the conditions are good and the brand is for this type of fishing.
On our trips, I am often a tour leader and am happy to give good advice along the way and possibly instruction in casting, fishing strategy and fishing technique, if you need this. Should you have any questions about our trips or questions about fishing rights, you are always welcome to contact me.
Torben Høiberg
My name is Torben Høiberg, I am 56 years old (1965) and live with my lovely wife Anne Mette Høgh Høiberg in Hornslet, where we have lived since 1995. Together we have two grown children Mads and Niels.

Like many other anglers, I started fishing when I was young. We had a summer house near the Gudenå, where I often fished for pike and perch. The fishing slowed down for a long period, when I, among other things, started own business (1990). In 2004, a big change happened, as one of my best friends asked if I would like to take a trip to Norway to fish for salmon. I had never tried to go fishing for a week - and then alone with the best friend - what could go wrong? I went along for the trip, which turned my desire to fish upside down. Back then it was fishing with worms, and I have a lot of patience. As it turned out, it took a few years before I got lucky! In fact, I went on no less than 8 weeks of fishing trips in Norway before I was finally lucky enough to catch my first and still biggest salmon of 10 kg in 2009. I had switched from worm to flash, and I clearly remember how much of a release it was to finally catch a salmon after 8 weeks of trying – spread over the years from 2004 – 2009.
‍
I readily admit that I am completely crazy about salmon fishing. I have been in Norway since 2004 min. once - over the last few years I value going away for 2-3 weeks every year and bother more if it can work out in a higher unity with the family. In addition to salmon fishing, I have fished for king salmon and steelheads in British Columbia and sea trout in Sweden. I continue to go to Norway every year. Naturally, I also fish in Denmark for pike, salmon and sea trout.
‍
Personally, I naturally feel like many others - the moment the salmon strikes, time stands still - I have become better at enjoying the fight and am very keen to get as many fights on film as possible, as it gives me the opportunity to relive the moments that I value very much.
‍
Besides fishing, a fishing trip can do something quite special. Being out with others with the same passion is fantastic, and if you are out with friends, you get some very special moments at the ramparts in the beautiful nature. Coziness, good food and countless stories are also part of a successful week for me. We all know that there are no guarantees for salmon – it requires you to be patient and spend as long as possible with something in the water.
‍
The primary reason why I have become involved in ASFF is – apart from fishing myself, of course – that it is a great joy for me to see when other anglers achieve their dreams, when they catch salmon and enjoy themselves in good company.
Mail: th@asff.dk
Mobile: +45 2919 2951